Watch this file for updates on the snowstorm that the City of Ottawa has declared a "significant weather event" as we track cancellations, closures, parking bans and more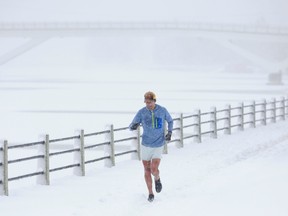 Article content
Christmas storm: Latest developments at a glance
Article content
Freezing rain early Friday. Changing to snow or ice pellets. Snow and or blowing snow in the afternoon. Winds are expected to hit 40 km/h with gusting to up to 60-70 km/h by Friday afternoon.
Friday night: More snow, blowing snow, winds out of the southwest at 40 km/h with gusts to 80 km/h. The low is expected to be -9 C, with wind chill making it feel like -13 this evening and and -19 overnight.
Hydro Ottawa was reporting 26,000 clients without power in outages citywide as of 9:30 a.m. Hardest hit is cluster in Barrhaven, Riverside South area. Expected return at about 11:30 a.m.
Outages have affected traffic lights, 'treat as four-way stops' across the city
Meanwhile, OC Transpo reported the system was slow, but steady with streets in rough condition.
As of Thursday evening, the city was not anticipating an impact on residential waste collection.
All schools closed in region
The city reminded people to prepare their emergency suppliers for any power disruptions.
All branches of Ottawa Public Library will be closed on Friday. All public library Bookmobile stops will be cancelled, as will deliveries by the Library's Homebound services.
War Museum, Museum of Nature and Museum of History closed
City recreation and cultural facilities closed
City client service centres and all other counter services closed
A winter weather parking ban goes into effect at 10 a.m. Friday
Article content
It's official: The City of Ottawa awoke Friday a "significant weather event."
Others have less polite descriptions.
The capital awoke to slippery streets, gusty winds, and mixed precipitation alternating overnight between rain, freezing rain and snow overnight.
The forecast is for snow or ice pellets changing to rain this morning then to snow and local blowing snow this afternoon.
There were reports of freezing rains in spots this morning with snow and ice pellets amounting to two to four cm. Winds are expected to hit 40 km/h with gusting to up to 60-70 km/h by Friday afternoon.
The high for Friday is expected to be about 4 C Friday morning, falling to -6 C in the afternoon.
Santa can expect a rough ride tonight: Periods of snow and local blowing snow are expected Christmas Eve, with winds out of the southwest at 40 km/h with gusts to 80 km/h.
Article content
The low is expected to be -9 C, with wind chill making it feel like -13 this evening and and -19 overnight.
Road conditions are slippery and residents were asked to stay off the roads as much as possible during the storm.
Article content
"By minimizing travel, you help keep the roads clear for roads crews and emergency vehicles.
"Please stay home (Friday) unless it is absolutely necessary. Anyone who is required to travel during this event is asked to plan ahead and give themselves extra travel time."
Here's what you need to know about cancellations, closures, parking bans and more.
HYDRO, TRANSPO
Hydro Ottawa was reporting 26,000 clients without power in outages citywide as of about 9:30 a.m.
The hardest hit area included a cluster of outages affecting up to 20,000 clients overnight in the Barrhaven, Riverside South area, stretching to Manotick.
By Friday morning, about 10,000 clients remained without service and Hydro has estimated it expects the outage will be repaired by 11:30 a.m.
Article content
The majority of outages elsewhere affected 500-1,000 customers across the city.
Outages have affected traffic lights across the city.
As usual, police and hydro advise motorists treat intersections with blinking lights as four-way stops.
Hydro Ottawa notes that flickering lights can be due to a phenomenon known as "slapping circuits," when overhead lines collide with one another, usually due to high winds.
Article content
Meanwhile, OC Transpo reported the system was slow, with streets in rough condition.
The O-Train ran through the night to keep tracks and equipment warn.
The only glitch so far was a fire alarm at Rideau station. Buses were briefly in use between Parliament and Lees station.
Article content
CANCELLATIONS
As of Thursday evening, the city was not anticipating an impact on residential waste collection. Residents can sign up to receive notifications through the Ottawa Collection Calendar app, by downloading the mobile app or registering online for alerts and updates.
OC Transpo customers were advised to plan ahead and anticipate possible delays. Updates from OC Transpo can be found at octranspo.com or on Twitter.
Friday will officially be a snow day for students and staff in the Ottawa-Carleton District School Board network.
All schools, virtual schools, programs, and administration offices will be closed tomorrow, the board said in an afternoon release.
The Ottawa Catholic School Board also announced Thursday afternoon that all schools, virtual classes, programs and offices will be closed on Friday.
Article content
"There will be no learning activities taking place on Friday, including virtual schools," said the release.
The board said transportation services will also be cancelled. This closure includes the extended day program, infant toddler and preschool programs, and the EarlyON Child and Family Centres.
Parents who have third-party childcare providers should consult with them.
Both school boards said the decision was made in consultation with the city's emergency and protective services department.
EMERGENCY PREPAREDNESS
The city reminded people to prepare their emergency suppliers for any power disruptions.
Emergency kits "should contain flashlights, battery or crank radios, extra batteries, water and canned food.
Article content
"Please look out for each other. Have a conversation now with neighbours, friends and family members about how to stay in touch with each other in the event of an emergency. Plan to check in with each other if one of you lives in a community that is affected by an emergency."
In the event of any emergency, the City of Ottawa would provide updates to affected residents via its website (ottawa.ca), its Twitter account (@ottawacity), by email to subscribers of the city's e-newsletter and via media releases sent to news organizations.
For more information on City programs and services, visit ottawa.ca, call 3-1-1 (TTY: 613-580-2401) or 613-580-2400 to contact the City using Canada Video Relay Service. You can also connect with us through Facebook, Twitter and Instagram.
Article content
CLOSURES
All branches of Ottawa Public Library will be closed on Friday. All public library Bookmobile stops will be cancelled, as will deliveries by the Library's Homebound services.
Due dates for regular library items will be extended until Dec. 27, 2022. Expiry dates for holds pickup will be extended until Jan. 2, 2023.
Book drops to return library items will remain open. Branches were expected to open on Saturday, Dec. 24 from 10 a.m. to 3 p.m.
The Canadian Museum of Nature will also be closed Friday, "in response to safety advisories to avoid unnecessary travel during this time." The museum said ticketholders would receive an automatic refund. It was set to reopen as scheduled on Monday, Dec. 26 with special holiday programming and activities.
Article content
The Canadian Museum of History and the Canadian War Museum will be closed to visitors and all other groups on Dec. 23 and Dec. 24, with plans to open once again on Dec. 27. All on-site events and programs have also been cancelled.
All of the City of Ottawa's recreation and cultural facilities will be closed on Friday and all drop-in activities, programs and rentals will be cancelled. All other city facilities, including City Hall and the Mary Pitt Centre, will remain open with certain exceptions.
All city client service centres and all other counter services will be closed. Civil ceremonies scheduled were not to be impacted.
All municipal child-care centres will be closed.
Read more about what's open in closed over the holidays in Ottawa by clicking here.
Article content
PARKING BANS
OTTAWA:
A winter weather parking ban goes into effect at 10 a.m. Friday.
During the ban, parking is prohibited on city streets so crews can plow easily and effectively. Vehicles parked on the street during a ban may be ticketed and towed. Though on-street monthly parking permit holders are exempt from this restriction when they are parked in residential parking permit zones, we encourage those who can, to find off-street parking options to avoid getting snowed-in.
So far, the ban's scheduled to be lifted at 7 a.m. Saturday, but that could change depending on the snowfall.
During the ban, residents will have access to select OC Transpo park and rides as well as certain recreation centres. Some City parking garages are available for parking during winter parking bans, however it is important that residents take note of what time they need to remove their car. Visit ottawa.ca/winterparking for more information about which City facilities are available.
Article content
"To help accommodate vehicle owners who do not have access to off-street parking during the winter parking ban scheduled from 10 am on Friday, December 23 to 7 am on Saturday, December 24, Roads and Parking Services partnered with Parks Maintenance and Forestry Services, the Recreation, Cultural and Facility Services team as well as the Ottawa Public Library to provide temporary off-street parking options at City of Ottawa Recreation Facilities with parking lots and Ottawa Public Libraries," the city said in a release.
"Please be aware that given the forecast, surface of these lots may be icy and/or covered with snow."
The city urges people to exercise caution on sidewalks, roads and the winter cycling network.
Article content
GATINEAU:
The City of Gatineau has announced a winter parking ban beginning at midnight and lasting until further notice Gatineau, December 22, 2022.
Go to gatineau.ca for more information ongoing snow removal operations and other storm measures.
FORECAST
Environment Canada says to avoid travel if possible as a winter storm bears down on Ontario, threatening holiday plans during one of the busiest travel times of the year.
The weather agency has placed most of Ontario under either a warning or watch ahead of a major winter storm expected Friday and into the holiday weekend, as it forecasts damaging winds, possible flash freezes, and blizzard-like conditions.
In Toronto, Hamilton and Ottawa, the agency is calling for up to 15 centimetres of snow by Friday, and possible 90 km/h wind gusts.
Article content
In other parts of southern Ontario, overnight rain combined with plummeting temperatures into Friday could result in flash freezing conditions.
Environment Canada says starting Friday, a "crippling blizzard" could hit parts of southwestern Ontario, including Niagara and Owen Sound, bringing wind gusts up to 120 km/h and 15 to 30 centimetres of snow by Sunday.
With files from The Canadian Press
AUDIENCE CALLOUT
Keep us posted as the storm hits over the next 24 hours. Has your power gone out? Do you have an amazing photo you'd like us to share with our readers? Send storm tips and photos with the subject line CITIZEN STORM WATCH to this email.
This article is available for free — outside of our paywall — because we believe this is a matter of crucial public interest. If you'd like to support us as we continue to provide journalism that matters for all Ottawans, please subscribe: https://ottawacitizen.com/subscribe/


Read More:Holiday storm watch: Icy streets, wind gusts to increase, power outages mount; Schools