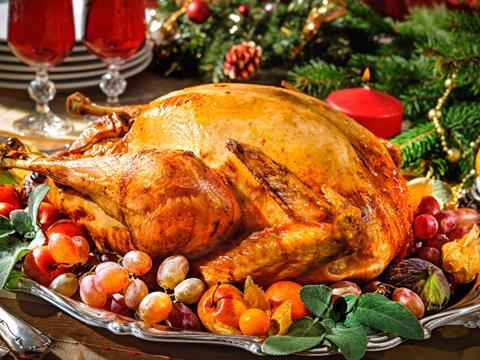 Shoppers are facing far less choice when it comes to fresh turkey options this Christmas, while prices have risen by up to 45% after the UK's worst-ever bird flu outbreak devastated this year's flock.
Analysis of Assosia data by The Grocer shows the number of fresh whole turkey and turkey crown SKUs in the traditional big four, Aldi, Lidl, Waitrose, M&S, Ocado and Iceland has fallen by 32.3% year on year.
Only 44 fresh lines were on sale on 12 December, compared with 65 on 13 December 2021. And of the 27 lines that were available on both dates, all but one had seen at least a 12% price hike. The average price increase across all 27 SKUs was 24.4%.
The biggest mover was a 45.3% increase for a Morrisons British large whole turkey to £31.44, followed by a 41.6% jump in the price of a Morrisons medium turkey to £23.45.
The price of a 5kg M&S Collection organic free-range bronze turkey with giblets, sold via Ocado, saw the third-biggest rise, by 35.7% to £95. A further 15 fresh turkey SKUs, sold by Ocado, Tesco, Waitrose, M&S and Aldi, saw increases of between 20% and 33.3%.
Frozen turkeys – as first reported by The Grocer at the start of November – have also seen big price hikes.
The Assosia data showed there were 34 price hikes in the selected retailers above 15% between the two dates. The biggest move was a 30.8% increase in the price of a Braemoor medium British turkey crown sold in Lidl, which rose from £12.99 to £16.99. The average price increase for the 49 frozen lines available both this year and last year was 18.1%.
The price hikes follow news that some 600,000 festive birds – representing about half the free-range turkeys and geese earmarked for this year's Christmas season – had been lost to this season's bird flu outbreak, according to British Poultry Council CEO Richard Griffiths, who updated MPs on the disease's impact at a Commons Efra Committee meeting a fortnight ago.
About 36% of poultry farms were now under some sort of avian flu restrictions, Griffiths added. He warned free-range poultry production in the UK faced an uncertain future without a viable vaccine, as many farmers had decided production in the current animal health environment was currently "not worth the risk".
His comments were echoed by 2 Sisters Food Group CEO Ronald Kers, who last week told The Grocer the poultry giant had lost "millions" as a result of the outbreak. Sister business Bernard Matthews had lost more than £10m, with hundreds of thousands of turkeys in its supply chain either killed by bird flu or culled.
It comes as the Efra Committee this week wrote to environment secretary Thérèse Coffey to urge her to change "fundamentally unfair" compensation rules for poultry producers impacted by bird flu.
Under current rules, compensation is only paid for the loss of healthy birds that are culled by government vets from an under-resourced Animal & Plant Health Agency.
However, because the current strain of bird flu killed birds so quickly, a large number of them died between the disease being noted by farmers and the arrival of the vets for culling, the Committee pointed out. This meant that the longer farmers had to wait for their cull, the less compensation they received.
"This can have a particular impact on smaller producers who keep birds in a single location and can lose their entire flock during an outbreak," the letter read.
The Committee is calling for a revision to the scheme so compensation "is paid based on the number of birds alive in the affected flock at the point of disease notification rather than the number of birds that are culled".
Coffey was also urged to set out how Defra would support bird restocking efforts, given how farmers currently had to wait 12 months after an outbreak before restocking.
"As a minimum, if the department is not willing to broaden the compensation scheme in the way we have suggested, we believe that it should provide financial support for deep cleaning of sheds to enable growers to restock as soon as possible," it added. It also urged action on vaccine development and deployment.




Read Nore:Fresh Christmas turkeys to cost up to 45% more in wake of bird flu crisis