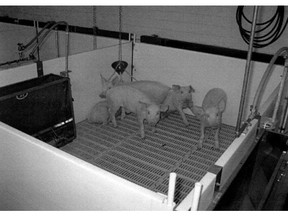 Article content
TORONTO, Jan. 06, 2023 (GLOBE NEWSWIRE) — A new Animal Protection Party of Canada (APPC) investigation exposes the cruel, unethical and dangerous use of piglets for "live tissue training" by the Department of National Defence (DND).
Article content
This report provides the most detailed insight to date into the DND's use of animals for military medical training. It reveals that piglets as young as 10 weeks of age are exposed to:
Toxic nerve agents, causing seizures, irregular heartbeats and laboured breathing;
Radiation, implanted under the skin or applied as a liquid, causing deep tissue burns; and
Severe trauma, such as cutting animals' faces, repeated stabbings, limb amputations and disembowelment.
Article content
Although the DND claims piglets are anesthetized during training, its own records indicate that many revive, noting in one case that a piglet began "vocalizing loudly" after being stabbed in the face, while another attempted to jump off the table but continued to be used for another two hours, regardless. Dr. Nicholas Dodman, an anesthesia expert and former head of of the Department of Anesthesiology at Tufts Veterinary School in Boston, denounced the anesthetics listed in the DND protocols as "totally wrong and inexcusable" for such invasive procedures.
In addition, the DND's own documents contain the admission that anatomical differences make pigs poor models for training medics to treat human injuries in the field. In fact, the DND acknowledges that using pigs may actually interfere with effective training by producing "training scars" in trainees who learn, for instance, how to position a breathing tube in a pig, in a way that would be an incorrect placement in a human casualty. And yet, between 2012 and 2016 the DND squandered approximately $700,000 in tax-payer funds by purchasing approximately 700 piglets* for cruel, obsolete and inapplicable training.
Article content
"The continued use of piglets for 'live tissue training' by the Canadian military is cruel, expensive, and puts soldiers' lives at risk by using archaic teaching methods and inapplicable animal models – all while superior non-animal alternatives exist," said Twyla Francois, Animal Research Investigator with AAC.
Over 70% of NATO members no longer use animals for military medical training. In the United States, the Department of Defense medical school, Uniformed Services University, stopped using animals in 2013 in favour of human patient simulators. As of 2015, all Advanced Trauma Life Support courses across the U.S. military also ended their use of animals. And by 2018, the U.S. Coast Guard ended all trauma training with animals.
"We are urging the Minister of National Defence to replace piglets with human patient simulators. It is within her power to do so and it would bring Canada in line with its NATO allies," added Liz White, Leader of the APPC.
* Information obtained by the Toronto Star indicates that 884 piglets were used.
A photo accompanying this announcement is available at https://www.globenewswire.com/NewsRoom/AttachmentNg/20e7c400-fa0f-46f5-a2ab-7106ede00cad



Read More:Animal Protection Party of Canada Investigation reveals piglets poisoned, irradiated,