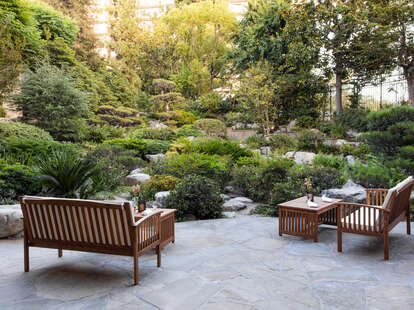 Hansei Garden | Photo by Katrina Frederick
Hansei Garden | Photo by Katrina Frederick
His California roll is a masterpiece, an immaculately constructed tower of crispy fried seaweed, crab, cucumber, and avocado topped with uni and wasabi, a textural take that is elevated both literally and figuratively, but Chef Chris Ono didn't start out intending to cook Japanese-American food.
Instead he came up in high-end French kitchens, and spent time working in ambitious Italian and traditional Edomae-style sushi spots. But as the LA native Ono watched some of the staple Japanese-American restaurants he grew up with go years without renovation or innovation, and as he saw too many of them close, he felt his perspective shift. As a Japanese-American Angeleno, he decided he wanted to bring those flavors forward at Hansei, his tasting menu residency at the Japanese American Cultural & Community Center (or JACCC) in Little Tokyo.
Japanese-American culture in Los Angeles is unique, influenced by Japan and also Southern California's melting pot, by generations of immigration and assimilation pressure, with deep scars left by Japanese internment. It can also feel like an overlooked group, especially from a food perspective, lumped in with more mainstream Japanese institutions, the community-focused restaurant culture overshadowed by the kind of buzzy cooking that gets more publicity and acclaim.
But Japanese-American food and culture is worth celebrating in its own right. Broadly speaking JA restaurants tend to be generalists, mom-and-pop shops that often stay within the family for generations, designed to provide a casual, comforting meal. The menus often have sushi and noodles, rice dishes and gyoza, and there is always, always, a California roll and a chicken teriyaki set.
There have been Japanese-American enclaves all over Los Angeles for generations, in neighborhoods like West LA, Crenshaw, Mid-City, Pasadena, and Silver Lake, with gathering places like the Venice Japanese Community Center spread across town. But Little Tokyo has historically been the largest hub of Japanese-American life, and since its opening in 1980 the JACCC has been a neighborhood pillar, hosting festivals, events, performances, exhibits, and office space for nonprofit organizations.
Jane Matsumoto is the JACCC's Director of Culinary Arts, and a Japanese-American native Angeleno. She describes the construction of the JACCC as a project by first and second generation Japanese-Americans, built with the hope of creating something tangible for their children and grandchildren. That means that the mission of the JACCC is fluid and evolving, designed to keep up with the times.
"We want to bring cultural practices and traditions, but also make it meaningful, accessible, and relevant to young people," Matsumoto says. So there are exhibits of traditional art like Ikebana living flower arrangements next to Shochu and Wagyu beef tastings, artisanal Japanese goods for sale, and benefit concerts with operatic singing next to Ono's distinctly modern and playful tasting menu at Hansei.
The Hansei experience takes advantage of the JACCC's expansive complex, giving diners an extended glimpse of the grounds as you move through the different phases of dinner. You start with a selection of small bites in the James Irvine Japanese Garden, a stunningly lush and meaningful space that is the perfect backdrop for Ono's delicate early courses. You are ushered in to the sushi bar-style dining room for the larger savory plates, where Ono is behind the bar explaining and guiding you through dishes like that California roll and a particularly elegant take on a teriyaki set. Then you move back to the dining room for the final few rounds of dessert and tea. It is, taken all together, a thrilling dinner, illuminating and inspiring and even educational.
Beyond Hansei and the JACCC, there are so many excellent and historic Japanese-American landmarks to explore in Little Tokyo. With Matsumoto and Ono as our guides, here are some of the best JA restaurants, bars, and businesses in Little Tokyo, with a couple bonus spots around town:
Today's Far Bar is not exactly what it was in decades past, when it was Far East Cafe, a Chinameshi restaurant that served as a hangout for the local Japanese-American community to eat Chop Suey and other Cantonese cuisine. It was a place where they could comfortably gather after returning from internment, and a place where the owners were known to serve meals on credit to Japanese-Americans who had returned home with little money to their names. The building was significantly damaged by the 1994 Northridge earthquake, and it sat closed for several years until new ownership took over, retrofitting and reinventing it as the craft beer and whisky-focused pub that it is today. Despite the change of concept, it remains a neighborhood go-to for the Japanese-American community, with a warm and familiar atmosphere and solid pan-Asian pub food. And the new ownership kept Far East Cafe's iconic Chop Suey neon sign intact and hanging above the entrance.
How to book: Reservations for large parties can be made through email or over the phone at (213) 617-9990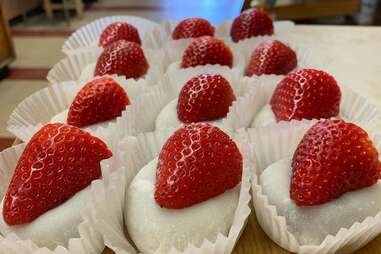 "If every restaurant had followed a similar model, there would be a lot more really cool Japanese-American cafes and restaurants around," Ono says of Fugetsu-do, the legendary Mochi shop that is now owned and run by third-generation wagashi expert Brian Kito. Kito has continued the legacy left by his parents and grandparents, keeping the shop in good shape and sticking with traditional methods while adding some of his own innovations. Fugetsu-do first opened in 1903, was reborn after internment in 1946, and continues making some of the very best mochi and sweets to this day. And they are set to continue doing so for a long time—Korey Kito, Brian's son, is in line to someday take over the shop.
How to book: Walk in or order online through Japan Super.
If you find yourself strolling Little Tokyo in search of gifts or small artworks, the 76 year-old Bunkado is a delight. The store was founded in 1946 by Tokio Ueyama, an artist who lived and studied all over the world, then settled in Little Tokyo before and again after internment. Today they carry a beautiful and fun selection of ceramics, home goods, books, tote bags, art, and Little Tokyo-themed stickers and pins.
How to book: Walk in or shop online through their website.
In 1946 when Tsutomu Maehara opened Anzen Hardware, Single Room Occupancy Hotels were common around Little Tokyo and Anzen was designed to supply them with simple hardware, home goods, and toiletries. The current owner Nori Takatani has been working at Anzen since 1954, and those categories remained the focus under his stewardship, even as the SROs have been replaced by businesses and apartment buildings. Their selection of Japanese home goods and tools is extremely well-curated, with a special focus on garden supplies and seeds in addition to odds and ends like scissors, high-quality chef's knives, and shoes, many of which are otherwise tough to find stateside.
How to book: Walk in only.
The legendary cafe Suehiro is one of the first Japanese-American restaurants in Little Tokyo that springs to mind for Ono and Matsumoto. The iconic restaurant turned 50 years old in 2022, and their expansive menu of Japanese-American classics is just as hearty and comforting as it has ever been. They have all of the hits, from chicken teriyaki and California rolls to ramen and udon, and their lunch specials—ginger beef, crab croquettes, or curry rice—have a deserved and dedicated following. It doesn't hurt that they're open until 1 am on weeknights and 3 am on weekends.
How to book: Walk in, call (213) 626-9132 or order takeout or delivery online through all of the apps.
The food at Kouraku is not strictly Japanese-American, it's more yoshoku—Japanese versions of American food. But it still may be Ono's favorite JA restaurant in Little Tokyo, with excellent renditions of yoshoku dishes like Curry Rice and Hamburger Steak. Matsumoto agrees that Kouraku, which first opened in 1976, is a Japanese-American classic, even if some of the food falls a little outside the standard definition; "JAs have gone there for 40 years, after dances and events," she says. With the way the kitchen knocks out their classic takes on yoshoku, the next 40 years look just as bright.
How to book: Walk in or order ahead through their website.
Just across the LA river in Boyle Heights, both Ono and Matsumoto love Otomisan, a truly iconic Japanese-American restaurant that became an official Historic-Cultural Monument earlier this year. Otomisan has been open since 1956, when Boyle Heights was home to a substantial Japanese-American community, and their food is as classic as it gets. "That's a totally JA-style restaurant, very mom and pop-ish, you have the teriyaki and California rolls, and it's a pretty important landmark," Ono says.
How to book: Walk in or call ahead at (323) 526-1150.
In West LA, Feast From the East has been open since 1981, a relative newcomer compared to some on this list, but third generation Japanese-American restaurant owner Suzanne Toji's place has been a standout for all of its four decades in the same location on Westwood Boulevard. According to Matsumoto, it started as a small chicken wing and Chinese chicken salad specialist, and those dishes remain the focus today even as the restaurant has expanded to take over several neighboring storefronts. They also sell several versions of their salad dressing at grocery stores and online.
How to book: Walk in or order online through their website.
These days the stretch of Sawtelle Boulevard between Santa Monica and Olympic is one of the densest strips of restaurants in town, but according to Ono the area used to be dominated by markets and shops and plant nurseries. Those have largely been converted to mixed-use apartment and retail buildings over the years, but back then Aki Restaurant was an essential stop for the local community, a classic JA generalist serving sushi, teriyaki, tempura, and stewed and simmered nabemono. Aki is just as essential as ever despite all the development around it, with a warm and unpretentious energy that makes it a classic in the very best way.
How to book: Walk in or reserve over the phone at (310) 479-8406.
Ben Mesirow is an Echo Park native who writes TV, fiction, food, and sports. At one time or another, his writing has appeared in The 
LA Times
, 
Litro
, 
McSweeney's Internet Tendency
, 
Los Angeles Magazine
, and scratched into dozens of desks at Walter Reed Middle School.




Read More:A Local's Guide to Historic Japanese-American Institutions in Little Tokyo